Have you been told that you are a perfectionist? 

Do you feel anxious when something is not in your control? 

Do you fear starting new things or taking risks because the thought of failure stops you in your tracks? 

Are you keeping yourself small because you are afraid of what people will think?

Do you feel like you are not _______________ (insert good, smart, thin, attractive, successful, witty, connected, etc) enough?
If you answered 'yes' to any of these questions, you may want to find out more about the Daring Way™.
The Daring Way™ is an educational and experiential curriculum based on the work of Brené Brown, Ph. D. LMSW.  Dr. Brené Brown is a research professor at the University of Houston Graduate College of Social Work.  She spent the last two decades studying vulnerability, courage, worthiness, empathy and shame.  She is the author of four books: The Gifts of Imperfection, Daring Greatly, Rising Strong, and Braving the Wilderness.  Her groundbreaking research has been featured on PBS, NPR, CNN, and Oprah Winfrey's Super Soul Sunday. Brené's 2010 TEDx Houston talk "The Power of Vulnerability" is one of the top ten most viewed TED talks in the world, with over 14 million viewers.  Additionally, Brené gave the closing talk at the 2012 TED conference, where she talked about shame, courage and innovation.  Further information is available at www.brenebrown.com.
The Daring Greatly curriculum is based on the book "Daring Greatly – How the Courage to be Vulnerable Transforms the Way We Live, Love, Parent, and Lead".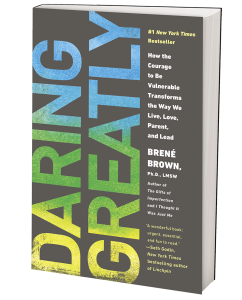 Participants can expect to learn, in detail, about Dr. Brené Brown's research on vulnerability, shame, courage, authenticity and resilience. This curriculum is excellent for those who are contemplating change and/or for those who are tired of feeling afraid of judgment, mistakes and criticism. She refers to this as "showing up, being seen and living brave". This change might be anything from starting a new job/career, dating after your divorce, setting boundaries with a family member or colleague, sharing a creative project, going back to school, public speaking, etc.
The ultimate goal of this work is to explore how you might be holding yourself back from your most courageous life and taking the chance at being your authentic self. Doing this work as part of a small group cohort also offers a safe community of like-minded people sharing this courageous journey.
The Rising Strong curriculum is based on the book "Rising Strong – The Reckoning, The Rumble and the Revolution".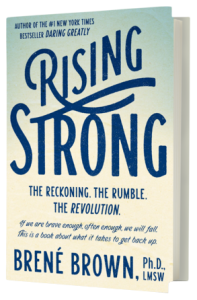 Participants can expect to learn, in detail, about Brené Brown's research on vulnerability, shame, courage, authenticity and resilience. Brené explains that there is only one guarantee when we dare to live our lives with courage. That guarantee is that we will struggle, fail or fall.
This curriculum walks us through the 3 phases – the reckoning, the rumble and the revolution- of this work. We learn how to identify when we are reacting instead of processing our emotions and how to learn and grow from our failures/mistakes. With practice, these changes can ultimately transform the way we live, love, parent and lead.
Please watch our newsfeed for dates of upcoming Daring Way events.
Here's what our past participants are saying about the Daring Way™:
"What a great way to learn how to put Brené's work into practice! If there was ever a safe place to be vulnerable, this is it."

"The Daring Way™ is exactly that…Daring. Show up, be seen and be heard. If you struggle with feelings of perfectionism, do yourself a solid and dare to be brave and take this workshop. You will gain valuable tools to propel you forward on this journey of self-discovery."

"The workshop helped me dig deep into my values and life and aid in living a more wholehearted life. I would certainly recommend the program to anyone looking for connection and to foster personal growth."

"This program provides a wonderful opportunity for personal growth and discovery in a safe and encouraging environment with a professional and knowledgeable facilitator. I feel lucky to have been a part of it."
Would you like to know more about Brené Brown?
Visit these two links to watch two of her Ted Talks.
Synergy's Celeste Schell is now trained as a Certified Daring Way™ facilitator and offering this curriculum in Kamloops, BC (and outlying communities). The goals of this work are:
To challenge fear and perfectionism,
To allow oneself to live courageously,
To build shame resilience skills,
To live an authentic and wholehearted life.
The curriculum can be offered in individual sessions but is best experienced as part of a small group or an intensive 2-3 day retreat. You can expect to dig deep to better understand the ways in which you want to 'show up, be seen and live brave' and the manners in which you are holding yourself back.